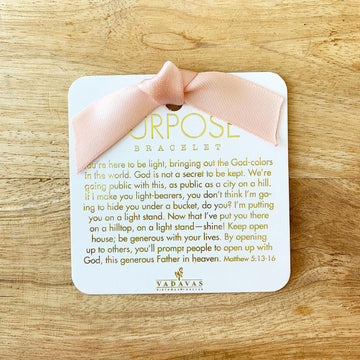 Purpose
In stock, ready to ship

Inventory on the way
You're here to be light, bringing out the Gd colors, in the world. God is not a secret to be kept. We're going public with this, as public as a city on a hill. If I make hot light-bearers, you don'y think I'm going to hide you under a bucket, do you? I'm putting you on a light stand. Now that I've put you there on a hilltop, on a light stand - shine! Keep open house, be generous with you lives. By opening up to others, you'll prompt people to open up with God, this generous Father in heaven.
FREE SHIPPING 
We ship, once a week, a consolidated box to our Miami rep. Then all orders are distributed with USPS all items to their respective addresses. The expected time for receiving the online purchased items may take up to 21 days, exclusive holidays and weekends.
Weekends and Holidays are excluded in shipping time frames. Vadavas® can not guarantee shipping times. The times given by the USPS are estimates. Once your item is in the mail, I have no control over when you receive it. However, if you have problems receiving your item, please contact me and I'll do all I can to HELP you find your package.
INTERNATIONAL SHIPPING 
Shipping is free in the USA. All other international countries there is an additional fee of $18 per shipping.
CUSTOMS/VAT FEES: 
**International customers are responsible for all customs, VAT and brokerage fees assessed by your country.** 
We are required by Federal Law to write the accurate item price and mark our customs forms as Merchandise. 
If you live outside the US and do not wish to pay customs fees, please let us know right away that you would like to cancel your order. We will not falsify the customs form, mark the contents as a 'gift' or lie about the value of the contents. All of these things are a Federal Offense. Please do not ask us to break the law. 
Your satisfaction is very important to us therefore we kindly ask you to return within 90 days.